***Who doesn't like big breasts??!***
Its hard to believe, but ChineseElvis is able to provide the large-breasted girl from Bob Geldof's party (see Famous Friends page) and as many of her equally talented friends as your budget can afford for an extra fee. They dance, they wear bits of string...its FANTASTIC!! Ask about details - If it works for Sir Bob, why not try it yourself? WARNING - Breasts like these dont come cheap - and in Elena's case they ARE REAL!! Remember you are paying by VOLUME. She's a good dancer too (but limits her performance to a mesmerising "pogo" dance). Admittedly, very little to do with Elvis, but Elena adds neccesary eye-candy to the show and writhes around during the set. Its worth it...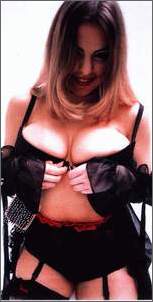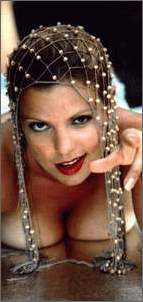 Unfortunately, Elena became unavailable recently - she emigrated to the US of A to find work. I think I spotted her in a 'Seymore Butts' feature recently, though from the angle, it was hard to tell. Rather than take down her pictures, I though they should be left up as a reminder of the good old days.