Last updated May 2022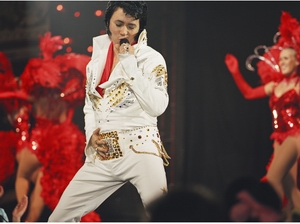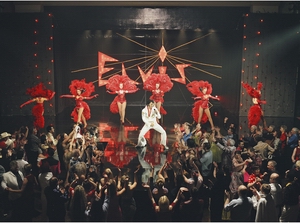 Trained by authentic homosexuals in the art of theatre in the 80s, Paul Hyu has appeared as an actor in theatres up and down the UK, including the West End shows Breakfast at Tiffany's, Miss Saigon, The Wind in the Willows, The Wheel of Life as well as working in Hong Kong, Singapore, Germany, USA, Canada and Barbados.TV & film credits include the stuff listed here on IMDB and a lot of radio drama mostly for the BBC. Read on and discover the wonderful & sexy world of Paul's alter-ego ChineseElvis and how you can get a little less conversation and a little more action, if only for a short and expensive time.
---
I have not updated this site a great deal! I blame the pandemic. The lack of online activity has meant that others, who are pretending to be me, have ascended the ranks. There are many other new and old Chinese Elvii, but not a single one of them has done anything like the vast body of work that I have. If you are looking for the guy from Ruislip, he is not me! The guy from Bexleyheath? Not me! Stockport? Not me! These guys are great, I am sure, but they are not me: about.me/chineseelvis.

ChineseElvis recently hit the milestone of a half century! He turned 50, which means he is 8 years older than Elvis ever was. As a result, ChineseElvis has kind of given up trying to look like Elvis and is now more or less being the kind of Elvis that Elvis would have been had he made to to age 50 (and were Chinese). This means a bit of a Fu-Manchu moustache sometimes and a Genghis Khan goatee! It actually complements the sideburns!

One cool thing to have happened recently is to have been hand drawn by reknowned portrait artist Stuart Pearson Wright. I was one of 20 Elvis acts to be exhibited and the only one whose interview was transcribed and also exhibited. You can see the other portraits on Stuart's site here (where you can read the transcript of my interview), but this is mine drawn with pencil, colouring pencil, charcoal, gold, glitter, gouache, ink, shellac, silver and collage on paper.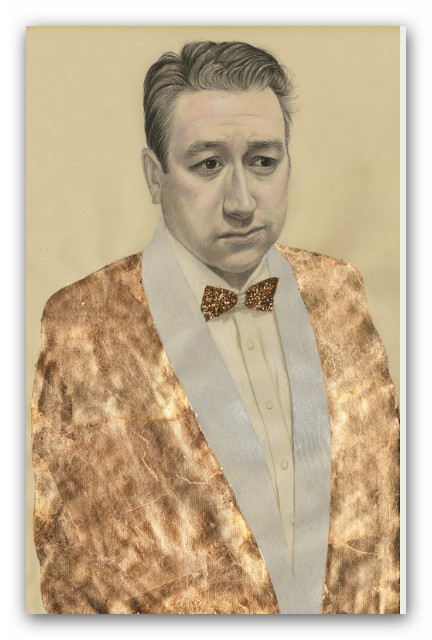 Chineseelvis performed at Annabelles NightClub for the birthday of the owner, Richard Caring (by whom he has been employed a number of times). ChineseElvis was one of the three Elvises singing at the opening of the Ivy restuarant in Manchester and at the Ivy in St Pauls. He also was very happy to perform at an event known as JonesFest in the Brecon Beacons.

ChineseElvis was also interviewed by Sideburns Magazine, an online resource about ETAs. Click here for the interview.

ChineseElvis recently has been thinking a lot about retirement and doing a few selected gigs: in Cannes at the Grande Hotel for a great company called TCB. Très chic! Duckie's Posh Club, a Casino in Milton Keynes, and a few select weddings. Winding down, a great showbiz trick used by Mick Jagger, means doing less gigs and charging more for them.
Chineseelvis was pleased to be invited to sing on Chinese New Year at the Hippodrome in London's Chinatown just before the pandemic.

ChineseElvis appeared at Twycross Zoo with (non-Chinese) Tom Jones! And some monkeys!
ChineseElvis sold out the famous Rivoli Ballroom on a disco night - something that has yet to be replicated!
Michael McIntyre, who I have been saying looks like me for some years has recently realised this for himself. To be fair, he does not know I am ChineseElvis, but he recently started his new chat show and his opening monologue used a picture of me he found on the Skype website (who hired me to wave, in dressing gown, at a child I had never met). This is a still from his show. I hope he can't sing very well, or I am literally finished...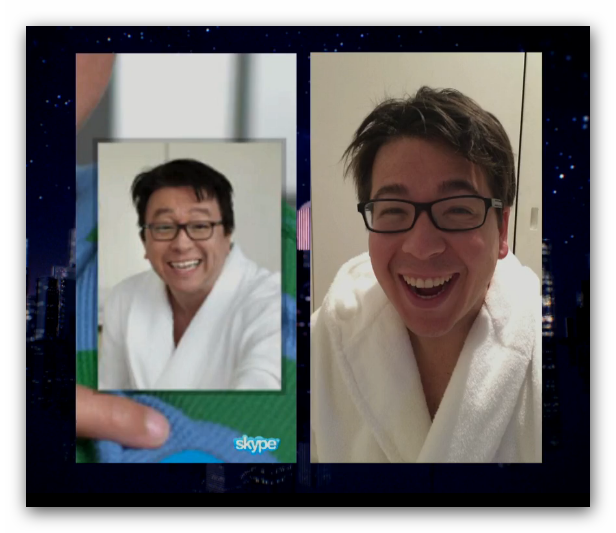 ChineseElvis appeared at 2012 Latitude Festival. The first Elvis to ever play this (or any) UK rock festival, he played to a packed tent at 1am on on Monday morning. In his head it looked like this:
And from ChineseElvis' perspective, it looked like this, which is not so bad.
It was at this gig that a selection of young people were converted to ChineseElvis fans, and together they created then chanted his new nickname, "Chelvis". This in turn spawned a little trend on Facebook and Twitter and some even created tributes, such as the one below.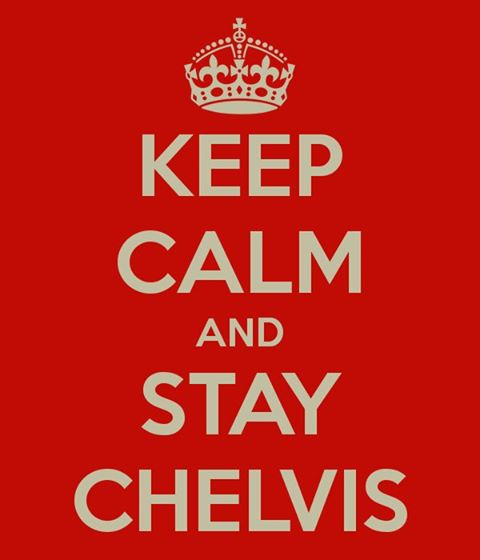 .
---

"..smells very fragrant..." Mel and Sue
"...classically trained..marvellous!!.." Andrew Castle
"...Unbelievable!!...Brilliant!!..." Rowland Rivron
"I enjoyed it. Thank you." Piers Morgan
"I am only a warm-up act for ChineseElvis..." Rt Hon Tony Blair
"Yes, I can honestly say I enjoyed it." Piers Morgan
"He's brilliant!" The Bishop of Croydon
"No. I didn't enjoy it." Piers Morgan
"I think you're just brilliant" Craig Revel Horwood
"He's a bit better than he should be in my opinion", Maureen Lipman CBE
"Dont you do anyone else?" Piers Morgan
"Elvis is still in the building" DJ Mike Read
"ChineseElvis, you are the strongest link" Anne Robinson
"Absolutely sensational" Mark Nicholas
"I knew him before he was even Chinese" June Brown MBE
"I was blown away" Roger Lloyd Pack
"Happy ChineseElvis day!" David Yip
"I'm very busy, call my agent" Burt Kwouk
"ChineseElvis is Chinese enough for 95% of the theatre-going public" Jeremy Bowen
"Looking great-if a little sun-tanned" Rowland Rivron
"Who better than ChineseElvis"? Tim Vine
"How about Chinese Tom Jones, for example?" Piers Morgan
"I'm a fan of Marilyn Monroe" Anna Friel
"Cricket's loss turned out to be the Elvis-loving masses' gain" South China Morning Post
"I love you, ChineseElvis, I absolutely love you! " Joanne Good
"It was excellent and everyone enjoyed the performance" Zac Goldsmith
"What you do is great. I love it" Mat Baker
"I hear you're an Elvis impersonator?" Peter Capaldi


"One of Britain's top Elvis mimics" Daily Star
"One of the top three impersonators in the UK" Daily Mail
"...legendary cult hero..." Time Out
"The best of the best so far" The Guardian
"The UK's most renowned Chinese Elvis" The Independent
"Local Hero" Whats On in London Magazine
"Uses the persona of Elvis to skewer stereotypes of Asian men", Elvis Impersonation Kit: A Step-by-step Guide to Becoming the King (is anybody else thinking Satay Chicken or is it just me?)
"Chinese Elvis is the reason you're most impressed" BBC Online
"Has a very impressive pelvis action" Daily Info
"Most memorable" Oxford Times
"...astonishingly talented" Malvern Gazette
"There's only one Paul Hyu", Sky News
"He makes a living" CNN
"One of Britain's top Elvis acts" The Independent
"Britain's top Elvis tribute act" The Sun
"One of Britain's top Elvis tribute acts is the Chinese Elvis, Paul Hyu from South London." Daily Telegraph
"One of Britain's top Elvis impersonators, who can command up to £2,000 for a show" Daily Express
"He's bright" Glasgow Herald
"Sheer surreal experience" Three Weeks
"Paul HUGE" STV
"..definitive political creed with the required irony, about identity" Confluence
"What encapsulates Xmas more than a Chinese guy in a jumpsuit belting out Elvis songs?" TNT
"The King is Back!" Southwark News
"The most popular Chinese Elvis in the country" i newspaper
---

ChineseElvis appeared in Harrogate at a private party, MCing a huge party with Britney Spear and Elton John Tributes as well as a handful of drag queens and the real Sophie Ellis-Bextor as the star turn of the evening. It was not the 1st time ChineseElvis had been to the northern spa town. He had been earlier in his career to entertain the masses for a special fund-raiser to help save the Royal Hall. It is a special place for the King from Beijing, as it is the venue where he picked up his first award; his school's German prize in 1984 followed quickly the following year with the Drama Prize! He is of course nowadays laden with such trophies, but in the bleak, grim Yorkshire dales during the miner's strike this small victory was celebrated in true eeeh- bah-gumm style by ChineseElvis and his pack of Presleytarians by smoking a quick pack of John Player Special behind the bike shed and downing a bottle of Woodpecker cider. Them wor the days.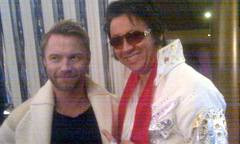 .
---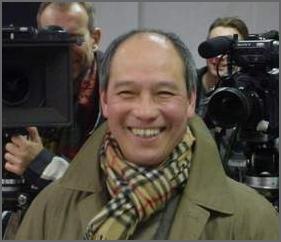 ChineseElvis is proud to have teamed up with his favourite comedian and fellow Elvis fan, award-winning punslinger Tim Vine (who happens to be exactly 2 days younger than ChineseElvis) for Tim's Elvis debut. Appearing as "Blonde Elvis", Tim's set was received to thunderous applause and went on to evolve into the Plastic Elvis about whom you may have heard.

BLONDE ELVIS, aka TIM VINE made his ELVIS DEBUT in 2011 in London with CHINESEELVIS
The pictures below are taken from a 2nd appearance at the Lantern Arts Centre, shortly afterwards.
.
---


ChineseElvis has done approximately 1000 gigs in a variety of places, from a London Bus to a boat moored off the west coast of Barbados. He has appeared and sung live on a multitude of television and radio shows including BBC Breakfast News, BBC World News, CNN, BBC News 24, GMTV, Sky News, Canal Plus, BBC2's Heaven & Earth, Richard & Judy, Foxy Bingo TV Show, Central TV, RAJ TV, London Tonight, BBC London Live, Radio 5 Live - Matthew Bannister show; Julian Worricker Show; Anita Anand show, Radio 4's The Message with Jeni Murray, BBC World Service, BBC Radio Wales, BBC Coventry, BBC West Midlands, BBC Oxford, TalkSport, Heart FM, LBC, XFM, some Polish radio station, as well as featuring in The Independent, The Guardian, the Daily Express, Daily Mail (voted among top three best Elvises in UK), Daily Star, Daily Mirror, Mail on Sunday, The Sun, BBC Online, What's On In London, Eastern Eye, The London Evening Standard, London Metro, Birmingham Metro (and many more). Not to mention the Harrogate Advertiser....
This might be a good section to point out that another Chinese Elvis, called Jonny Lo, is passing himself off as me. Like I have always said, this usually makes little difference - as we all look to the same to you (!) - but in this case it does make a difference because Lo in this case refers to the quality of the singing. And anyone can recognise good and bad singing. I am sure a good time will be had by all at his restaurant, but sadly I suspect that people are laughing at him and not with him and frankly from my reports, he seems to be putting ethnic relations back another 20 years - just at the time when we dont need that at all. When speaking to him, he will not deny that he is me, but ask him whether he has ever sung in the West End or specifically any of my many achievements and he will be hard pushed to answer in the affirmative. If he does, let me know. But in the meantime, the Elvis of choice for discerning, middle class radio 4 listeners is (and will remain) ChineseElvis from this very site!
---


ChineseElvis WON the Elvis-only THE WEAKEST LINK special vs eight other top (including some international) Elvii. A charity special, ChineseElvis won £5,900 for the NSPCC and his Chinese friends at the Islington Chinese Association. I am aware that Elvis impersonators are educationally challenged as a rule, but it was worth risking the humiliation of the 'walk of shame' for the chance to raise the number of appearances of a Chinese face on prime-time BBC television. It worked! They went proudly up a notch to 1 for that year. Well done! Watch edited highlights of this show on the left (or on my media page).
ChineseElvis won the prestigious "Funniest in the Parade" award at the Shoreditch Carnival. The funniest thing about this award is that I was not informed about it and therefore missed the ceremony. It is a strangely uncompetitive award, given that the paraders directly behind me were "Families in Crisis" - I don't think they were really in the running, to be fair - even though they were hilarious..! But an award is an award - and the cabinet extension has already been commissioned. I believe "Homeless in Hackney" were a close 2nd...

In March 2009, the director of High Wycombe Judo Centre, Nigel Muldowney, presented ChineseElvis with an honororary Red belt in a drunken ceremony. It is a great honour. I think.

On the flip side of this award-winning success, Paul Hyu was a finalist for a Chinese achievement award - a so-called Pearl Award. The category was "Media Excellence". It is debatable whether these Chinese awards are meritocratic, let alone whether they even exist any more, but beggars can't be choosers and he considered it a great honour. Sadly, in spite of his media ubiquity and recent upgrade in status to Local Hero of London, ChineseElvis lost out to a newsletter, called "Dragon's Tale", who my uncle observed were extremely friendly with the award organisers. "FIX"! he shouted. "But they are all Chinese", I answered. As if they would behave in such a way! I have subsequently tried to look this newsletter up on Google to no avail. To reiterate what Jackie Chan said in his pre-recorded speech, "Congratulations to all concerned" - Or as world renowned celebrity chef and kitchen utensil salesman Ken Hom said, "I can't believe it's Media Excellence!
---


Comedy, Elvis and BBC/Sky news? who could possibly combine these two elements and still remain respectful to mostly everyone? Why ChineseElvis, naturally...
CHINESEELVIS appeared on C5 advocating for Elvis on the C5 show BATTLE OF THE POPSTARS-LIVE! This interactive show was strangely watchable (due to the fact that there was nothing else on any of the other channels) and Elvis actually won it, meaning that ChineseElvis was making salient points regularly through the 2 1/2 hrs.
ChineseElvis was the star of the extensive and expensive nation-wide advertising campaign across the UK for AOL Broadband. Looking quite fat, this was of course Jim-Henson muppet workshop-style padding and state-of-the-art expensive CGI techniques superimposed around my amazingly smooth and toned swimmer's body - to help get in character. Think Ray Winstone in Beowulf but the opposit. Dont forget, the camera adds ten pounds. The campaign for AOL Broadband consisted of a series of TV commercials and posters, like that below, which appeared on billboards, the tube, internet pop-ups and newspapers. The tv advert can be found on my download page .